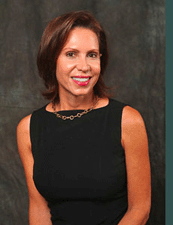 Dr. Gaito is a rheumatologist specializing in Lyme disease. She has been in practice for over 28 years. She was one of the founding members of the International Lyme and Associated Diseases Society, served two terms as its President and 14 years on the Board of Directors. She is presently the Chairman of the ILADS Ethics Committee and the Editor of the ILADS newsletter. Dr. Gaito's primary focus is the relationship and differentiation of Tick-borne illnesses and Autoimmune diseases, including Rheumatoid Arthritis, Systemic Lupus, Lyme Disease and Anaplasmosis.
Dr. Gaito has a very personalized approach to her practice. She evaluates all patients exclusively by herself at each visit. She uses a wide array of laboratories and diagnostic tests to uniquely diagnose each patient. Her office frequently participates in clinical trials and research studies with both teaching Universities and the pharmaceutical industry. Her office, conveniently located in central New Jersey, is attended to by a friendly and efficient office staff who are well versed in patient care.
Please call (908) 766-0339 for an appointment.